J & E Hall provide upgrade for high volume chill store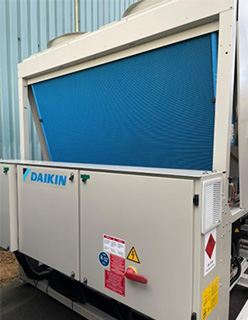 J & E Hall has successfully completed a design and install of a new cooling system for a food logistics company, which provides chilled storage and distribution.
The existing equipment was operating on outdated, high GWP refrigerants and much of it was beyond economical repair.
This particular chilled warehouse operates as a milk distribution centre. The dairy products need to be stored between 2°C and 4°C.
Capital equipment was selected from the range of Daikin group products and J & E Hall selected a Daikin air cooled chiller which feeds seven coolers and condensers air coolers.
The site projects manager commented "The works were carried out with zero disruption to the operation and the install team were very conscious of the needs on site while they worked."