HallScrew Compressor Packs
HallScrew Compressor Packs
Complete compressor package using HallScrew single screw technology
J & E Hall supply the HallScrew compressor as a complete package with oil management system and controller for installing into a refrigeration, air conditioning or heat pump system.
Standard HallScrew compressors feature high efficiency slide valves to control capacity. Alternatively, we offer inverter technology which reduces power input to gain even higher
efficiencies.
HallScrew compressor packs offer wide ranging cooling capacities for the most varied applications. Customers have the confidence in our compressor pack technology from deep freezing to standard refrigeration. Our packs are installed world-wide and used in a wide range of industries.
Standard features:
HallScrew single screw compressor
IP55 2 pole electric drive motor
Electronic controller
Suction strainer and non return valve
Oil separator
Oil cooler or liquid injection kit
Oil heater
Oil management system
High pressure safety cut out (electro-mechanical)
Oil pump as required
Capacity control solenoid valve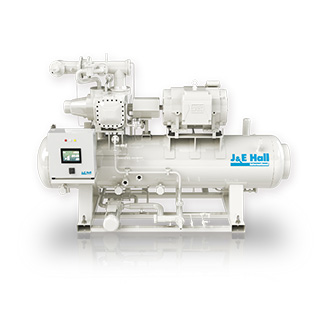 Popular Downloads / Resources